What is Advanced Systemic Mastocytosis (AdvSM)?
AdvSM is a rare disease that affects the production of mast cells (a type of white blood cell), which are part of your body's immune system.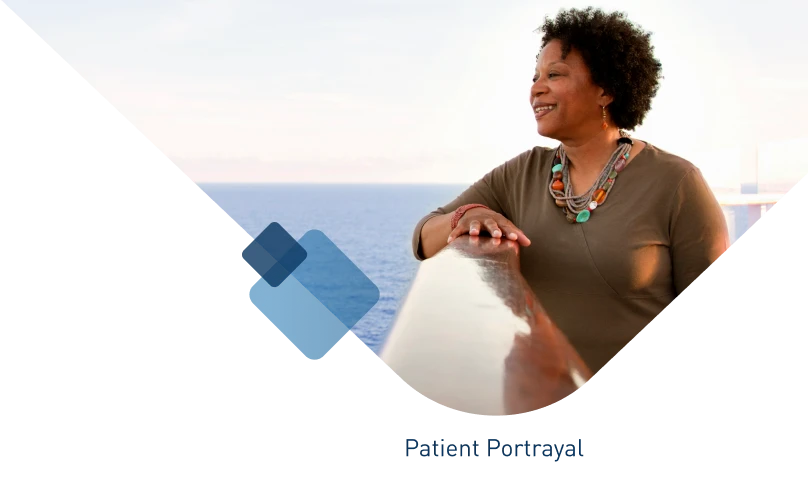 What may happen when you have AdvSM?
Your body makes mast cells as part of an inflammatory response to keep you healthy.
In patients with AdvSM, mast cells are overproduced and can build up in different parts of the body.
This overproduction and activation of abnormal mast cells may cause the symptoms of AdvSM.
What are some of the most common symptoms of AdvSM?
Skin Lesions or Rash
Unexplained, potentially severe allergic reactions
Nausea, Vomiting and Diarrhea
There are more than 20 symptoms that patients living with AdvSM may experience.
Each patient is different, and some may not experience all the symptoms of AdvSM.
Talk to your doctor about your symptoms and for medical advice.
KIT D816V Testing
A KIT D816V blood test may be helpful to aid in the diagnosis of patients who are being evaluated for AdvSM. Since the mutation is found in approximately 95% of SM cases, measurement of this genetic marker can help evaluate for AdvSM. There are different types of KIT tests available that vary in sensitivity. High sensitivity tests may be required to detect the mutation.
Discover AYVAKIT® (avapritinib) for AdvSM
AdvSM FAQs
Systemic Mastocytosis (SM) is a rare disorder in which excess mast cells build up in the body. Mast cells are a type of white blood cell that helps the immune system function normally and helps protect from disease. Mast cells are found in connective tissues throughout the body. In SM, a surplus of mast cells collects in the skin, bone marrow, digestive tract, or other body organs. When triggered, these excess mast cells release histamines and other chemicals that can cause symptoms similar to those that occur in an allergic reaction, as well as inflammation that may be severe enough to result in organ damage.
AdvSM is a type of systemic mastocytosis. AdvSM occurs when the buildup of mast cells causes damage to organs, which may affect how well they can work. There are different types of AdvSM:
Aggressive Systemic Mastocytosis (ASM)
Systemic Mastocytosis with another blood cell condition (called an Associated Hematologic Neoplasm or SM-AHN)
Mast Cell Leukemia (MCL)
In ~95% of cases, AdvSM is caused by a mutation called KIT D816V that makes these abnormal mast cells grow out of control.
AdvSM can affect people differently. Some symptoms that have been reported by people living with AdvSM include:
Depression or anxiety
Brain fog, memory loss, or difficulty concentrating
Headaches
Flushing, itching, and hives
Abdominal pain or cramping
Diarrhea
Nausea
Acid reflux
Low blood pressure
Dizziness
Heart flutters or rapid heart rate
Chest pain
Severe whole-body allergic reactions (anaphylaxis)
Bone and muscle pain
Bone loss or weak and brittle bones
Extreme tiredness
Shortness of breath
Nasal congestion
Weight loss
Abnormal bloodwork
Organ damage or failure
To diagnose AdvSM, doctors will need to assess your medical history, current symptoms and may do a variety of tests to look for abnormal mast cells in your blood, bone marrow and other organs. They may also test mast cells for the KIT D816V mutation.
AdvSM is a rare condition where mast cells grow abnormally and out of control. Therefore, it is considered a type of cancer.
Across all types, systemic mastocytosis is estimated to occur in about 1 out of every 10,000 people, although fewer than that have AdvSM. Current estimates suggest around 1 in approximately 200,000 people worldwide are living with this condition.
Want to receive more information about AYVAKIT for AdvSM?