What is PDGFRA GIST?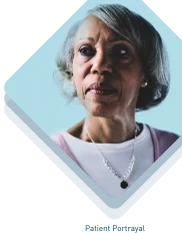 What may happen if you have PDGFRA GIST?
Gastrointestinal Stromal Tumor with PDGFRA exon 18 mutation (otherwise known as PDGFRA GIST) is a rare disease that affects the production of cells in the gastrointestinal tract known as interstitial cells of Cajal (ICC).
ICCs help move food and liquid through the gut
In PDGFRA GIST, a genetic mutation makes ICCs grow out of control
This forms a tumor, most often in the stomach or small intestine
What are some of the most common symptoms of PDGFRA GIST?
Blood in vomit and stools
Abdominal pain and swelling
Difficulty swallowing
Loss of appetite and weight loss
Remember that every patient's experience with PDGFRA GIST is different and symptoms can vary from case to case. Talk to your doctor about your symptoms and for medical advice.
Want to learn more about AYVAKIT® (avapritinib)?
GIST FAQs
GISTs are cancers made up of a type of nerve cell found in the walls of the digestive organs that are involved in helping to move food through the gut. GISTs begin in the digestive system, most often in the stomach and small intestine. A majority of GISTs have mutations in a gene known as PDGFRA. Such mutations can cause cells to grow out of control.
No one knows the exact cause of the mutations that result in GISTs. There are rare instances where these mutations are passed down or inherited from parent to child, but otherwise the only known risk factors for GISTs is older age.
The platelet-derived growth factor receptor alpha (PDGFRA) gene makes a protein that controls cell growth and survival of many types of cells throughout the body.
A mutation is an abnormal change in a gene. Some mutations can lead to cancer cell growth. Among people with GIST, about 10% to 15% have a mutation on a gene called platelet-derived growth factor receptor alpha (PDGFRA). When these specific mutations occur, a protein produced by the abnormal gene activates and can cause cells to multiply uncontrollably. These cells build up and form tumors known as GISTs.
KIT is a gene that produces a protein that helps cells grow under control. If the KIT gene has a change or mutation, it can produce an abnormal protein that can cause the cells to grow uncontrollably and form a tumor.
One common symptom of GIST is bleeding which can be seen in vomit (may look brown or gritty) or in bowel movements (black, tar-looking or have visible blood). Bleeding can also lower red blood cell counts (also known as anemia), which may make people feel tired and weak.
Other GIST symptoms can include:
Abdominal pain or swelling
Nausea and/or vomiting
Difficulty swallowing
Weight loss, loss of appetite or feeling full after eating only small amounts
Some people with GISTs may not have any symptoms, and the tumors may be discovered during testing or treatment for other conditions.
GISTs are rare, and PDGFRA mutations occur in about 10% to 15% of GIST cases. Some estimate that there are fewer than 3 cases of PDGFRA-mutated GISTs per 1 million people worldwide.