What is AYVAKIT® (avapritinib) for PDGFRA GIST?
AYVAKIT is a prescription medicine used to treat PDGFRA GIST in adults.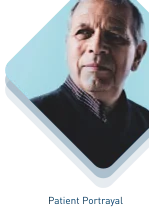 AYVAKIT targets specific mutations to prevent the growth and spread of PDGFRA GIST cancer cells
A mutation is an abnormal change to a gene, which may lead to diseases

Who is AYVAKIT for?
AYVAKIT is a prescription medicine used to treat adults with a stomach, bowel, or esophagus cancer called Gastrointestinal Stromal Tumor (GIST). Particularly, it's for those with a GIST that can't be treated with surgery or that has spread to other body parts, and that have a mutation in the platelet-derived growth factor receptor alpha (PDGFRA) gene.
Your healthcare provider will perform a test to make sure that you have this abnormal PDGFRA gene and that AYVAKIT is right for you.
It is not known if AYVAKIT is safe and effective in children.
AYVAKIT was proven to work against GIST with a PDGFRA exon 18 mutation
AYVAKIT was studied in a clinical trial called NAVIGATOR. The trial included 43 people with PDGFRA exon 18 mutations, 38 of whom had the PDGFRA D842V mutation.
84% of 43 PEOPLE RESPONDED:
33 people (77%) had their tumors shrink by at least 30% (partial response)
3 people (7%) had their tumors completely disappear (complete response)
IN ADDITION:
6 people (14%) had no change in their tumor size (stable disease)
1 person (2%) had their tumor grow (progressive disease)
For the 38 people with a PDGFRA D842V mutation, 89% responded. Thirty-one people (82%) had a partial response and 3 people (8%) had a complete response.
It's important to note that a having a response does not mean the cancer has been cured.
Individual results may vary.
Is AYVAKIT right for you?
Before taking any medication, it's important to understand its risks. Always consult with your doctor regarding questions about treatment with AYVAKIT.
AYVAKIT may cause serious side effects, including:
Bleeding in your brain:
Serious bleeding in the brain may happen during treatment with AYVAKIT and may lead to death. Stop taking AYVAKIT and tell your doctor immediately if you develop any symptoms such as severe headache, nausea, vomiting, vision changes, drowsiness, dizziness, confusion, or severe weakness on one or more side of your body.
Cognitive effects:
Cognitive side effects can happen during treatment with AYVAKIT and can be severe. Tell your doctor if you develop any new or worsening cognitive symptoms, including:
Forgetfulness
Confusion
Getting lost
Trouble thinking
Drowsiness
Trouble staying awake (somnolence)
Word-finding problems
Seeing objects or hearing things that are not there (hallucinations)
Change in mood or behavior
Skin sensitivity to sunlight (photosensitivity):
Your skin may be sensitive to the sun or other forms of light (photosensitivity) during treatment with AYVAKIT. Avoid or limit exposure to direct sunlight, sunlamps, and other sources of ultraviolet radiation during treatment and for 1 week after stopping treatment with AYVAKIT. Use sunscreen or wear clothes that cover your skin if you need to be out in the sun.
Common side effects to treatment were:
Fluid retention or swelling
Nausea
Tiredness or weakness
Trouble thinking
Vomiting
Decreased appetite
Diarrhea
Increased eye tearing
Stomach area (abdominal) pain
Constipation
Rash
Dizziness
Hair color changes
Changes in certain blood tests
These are not all of the possible side effects of AYVAKIT. Inform your doctor about any side effects you experience.
Do not drive or operate hazardous machinery if you have confusion or trouble thinking during treatment with AYVAKIT.
AYVAKIT may cause fertility problems in females and males. Talk to your healthcare provider if this is a concern for you.