What is AYVAKIT® (avapritinib) for Advanced Systemic Mastocytosis?
AYVAKIT is a prescription medicine used to treat Advanced Systemic Mastocytosis (AdvSM) in adults.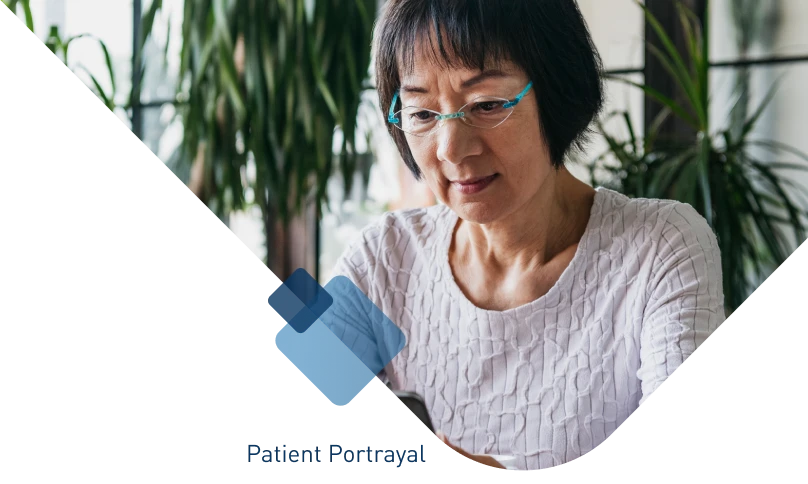 AYVAKIT is a targeted treatment
Targets a genetic mutation that is the underlying cause of AdvSM in about 95% of patients
Who is AYVAKIT for?
AYVAKIT is a treatment for adults with AdvSM.
ADVANCED SM includes:
Aggressive Systemic Mastocytosis (ASM)
Systemic Mastocytosis with an Associated Hematological Neoplasm (SM-AHN)
Mast Cell Leukemia (MCL)
AYVAKIT is not recommended for the treatment of AdvSM in people with low platelet counts (less than 50 x 109/L).
It is not known if AYVAKIT is safe and effective in children.
Discover how AYVAKIT performed in clinical trials
AYVAKIT was studied in 2 clinical trials to determine if it was safe and effective for patients with AdvSM. In the studies, 53 patients had their response to treatment with AYVAKIT evaluated.
All 3 subtypes of AdvSM were represented (ASM, SM-AHN and MCL) and doses were taken as prescribed.
57%
of Patients Responded to Treatment with AYVAKIT
Of the 53 patients with AdvSM treated with AYVAKIT, 30 showed improvement in their disease. Improvement was defined as a treatment response at 12 or more weeks, and the resolution of or partial recovery from damage to one or more organs affected by AdvSM. A change in the number of mast cells in bone marrow and a decrease in the level of activation of mast cells by at least 50% were also evaluated.
About half the patients responded to treatment within the first 2.1 months after starting therapy.
Individual results may vary. It is important to note that having a response to treatment does not mean a person's AdvSM has been cured.
AYVAKIT may cause serious side effects, including:
Bleeding in your brain:
Serious bleeding in the brain may happen during treatment with AYVAKIT and may lead to death. Stop taking AYVAKIT and tell your doctor immediately if you develop any symptoms such as severe headache, nausea, vomiting, vision changes, drowsiness, dizziness, confusion, or severe weakness on one or more side of your body. Your healthcare provider will check your platelet counts before and during treatment with AYVAKIT.
Cognitive effects:
Cognitive side effects can happen during treatment with AYVAKIT and can be severe. Tell your doctor if you develop any new or worsening cognitive symptoms, including:
Forgetfulness
Confusion
Getting lost
Trouble thinking
Drowsiness
Trouble staying awake (somnolence)
Word finding problems
Seeing objects or hearing things that are not there (hallucinations)
Change in mood or behavior.
Skin sensitivity to sunlight (photosensitivity):
Your skin may be sensitive to the sun or other forms of light (photosensitivity) during treatment with AYVAKIT. Avoid or limit exposure to direct sunlight, sunlamps, and other sources of ultraviolet radiation during treatment and for 1 week after stopping treatment with AYVAKIT. Use sunscreen or wear clothes that cover your skin if you need to be out in the sun.
Common side effects to treatment were:
Fluid retention or swelling
Diarrhea
Nausea
Tiredness
Changes in certain blood test results
These are not all of the possible side effects of AYVAKIT. Inform your doctor about any side effects you experience.
Do not drive or operate hazardous machinery if you have confusion or trouble thinking during treatment with AYVAKIT.
AYVAKIT may cause fertility problems in females and males. Talk to your healthcare provider if this is a concern for you.
Want to receive more information about AYVAKIT for AdvSM?